04.1.13
Week 4 of the Alphabet Sufficiency: V.
I've circled on 'value' for a long time; this is the prompt of this essay series for which I've started writing four times. My relationship with value is ongoing, and I've got hidden writings now on how I try and tell if other people value me, on my relationship with the sunk cost fallacy, on the epistemological problems with measurement (that is, a measurement and reality are not the same thing), and even on irritating probability mind tricks that depend on weird phrasings.
But the sunk cost fallacy suggests I should pick something bite-sized and be done with it, so here it is: I am coming to value my PhD work. (Status of that: I've finished writing and been examined and done my required corrections. I'm waiting for university sign-off and eventual graduation. So, I'm not a PhD holder, but I will be. I'm a PhD finisher already.)
This has been a while coming. There are lots of things wrong with the PhD process, maybe less so in Australia than in some other countries and maybe less so in computer science than in some other disciplines, if only because for some computing employers outside the academy it's seen as a positive signal rather than a negative one, as is the stereotype of how a PhD is seen in some other fields. (Note, stereotype; I know nothing of the reality.)
And it's much easier to feel warm and fuzzy about something when the hard bit is nearly a year in the past, too. Somewhere in my photo collection there's a self-portrait of me late last May, at 11pm, eating the spag bol my sister dropped off in a care package, alone in darkness. You know you're at a peak life-stress when Steph drops off food: the other time last year was when I was unexpectedly hospitalised for a week last year. It was a cold evening, I remember taking the photo to email my family and I don't know that I felt that was I was doing was valuable at the time so much as simply wanting it to be in the past. And also wanting to warm up. I did two things last May: write stuff, and learned a whole lot about climbing Everest (mostly from Alan Arnette's blog). Not metaphorically, literally, because May is the end of the Everest climbing season. The Everest climbers and I were both cold, and both working hard. I felt we had a lot in common. Even if they got better photos than I did.
So, we need to allow for rose-coloured glasses, very much so. And I'll also note that I don't think a PhD is the only, or the best, or a better, way to obtain a lot of what I value from it. But it comes down to this: I wrote about 100 pages in 2 months. In that time, I did a small amount of experimental work (obviously most of it was done by then), I evaluated a lot of sources, and I did a lot of work in explaining things. I can tell you (but won't, here) how I could re-do the whole thing, much better. And I did so much work independently — not always well in hindsight, but work — that every other project in my life pales in terms of sheer clinging onto the side of the mountain trying not to fall down it.
It will be a long time before I can decide if I did any of this well even in the (frankly unlikely) event that I read it end-to-end ever again. But the value I'm deriving from simply having done it is not negligible. It takes a lot of written material to intimidate me now, for one thing. I can read scientific literature outside my field and have some idea of how to scale the mountain. I feel much happier about having done it than I did at any time in 2012, including the day after handing it in. Its value probably still doesn't come to seven years of opportunity cost, but it has some.
Bonus value: this blog entry has caused me to go back over my journals of last May, which include a few hilarious (entirely to me) moments:
May 19th:
[The thesis] also probably going to be longer than I expected: probably 150 pages or so in terms of sheets of paper, around 100 to 110 pages of non-appendix content.
Amusing or horrifying, your call: I sent it to the printers ten days after writing that, with 140 pages of non-appendix content and 201 total, so I blew my own projected page estimate by over 30 pages of prose in a week and a half. (I added a lot this year in response to my examiners too: the final version hasn't been printed but is around 155 pages of non-appendix content and 230 total.)
Full disclosure: like many theses, it is double-spaced. It's difficult to word-count accurately when you write in LaTeX, but it's about 65000–70000 words, give or take, including appendices, which is a bit long for a science thesis, but that's not unusual in computational linguistics.
May 29th (the day I ordered the printing of my examination copies):
I said to [my supervisor] that some people do all the training for a black belt and then don't take the test (actually I don't even know if this is true, but I said it) because they know within themselves that they are worthy and so…

He said "No. No no no no no. No way."
The 'f' word for next week is 'favourite'.
03.5.13
Week 3 of the Alphabet Sufficiency: A. I'm just late this week. I'll probably have some commentary on that at some point.
I saw the solar eclipse in November, or at least the right half of it, and thus began a six month dabbling in general relativity. It all started innocently enough, looking at astronomy websites to learn about, eg, why there isn't a solar eclipse every month, which isn't a relativity question at all..
Since New Moon occurs every 29 1/2 days, you might think that we should have a solar eclipse about once a month. Unfortunately, this doesn't happen because the Moon's orbit around Earth is tilted 5 degrees to Earth's orbit around the Sun. As a result, the Moon's shadow usually misses Earth as it passes above or below our planet at New Moon. At least twice a year, the geometry lines up just right so that some part of the Moon's shadow falls on Earth's surface and an eclipse of the Sun is seen from that region.
Well that's that answered, but I'd made the mistake of visiting Wikipedia, and we all know how Wikipedia works: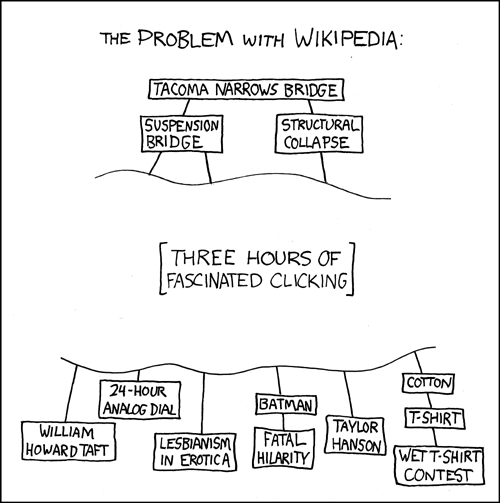 xkcd: The Problem With Wikipedia
Or actually, we don't quite, because Randall Munroe apparently uses Wikipedia differently from me. If I end up on Wikipedia, I won't be spread out among William Howard Taft and wet t-shirt contests, I will be in one of two places: poisons, or black holes. I can't explain the poisons thing either, but black holes are pretty self-explanatory: relativity! spacetime! breaks down! infinite density! spagettification! gamma ray jets!
Or you can get your poisons and your black holes in the one place:
A supernova or hypernova produced by Eta Carinae would probably eject a gamma ray burst (GRB) out from both polar areas of its rotational axis. Calculations show that the deposited energy of such a GRB striking the Earth's atmosphere would be equivalent to one kiloton of TNT per square kilometer over the entire hemisphere facing the star, with ionizing radiation depositing ten times the lethal whole body dose to the surface.
Eta Carinae, one of the most massive star systems in the Milky Way, is 7500 light years away. So, imagine that: a radiation jet so powerful that it would deliver lethal radiation doses to us across thousands of light years, if we happened to lie in the path of the axis of rotation at the time of a supernova. Which, luckily, we probably don't.
I thought, in high school, that I'd be a physicist one day. I read the popular works of Stephen Hawking and Richard Feynman and Paul Davies. In Year 11 and 12, when NSW high school students only take English as a compulsory subject and all else is elective, I loaded up with maths, physics and chemistry. When I went to National Youth Science Forum, I asked to be placed in one of the groups for students most interested in physics. I went to the International Science School for high school students (not especially international, I might add) and poured over the pictures of physics PhDs and postdocs imagining myself among them.
And then various things happened and I'm not a physicist. I didn't even take university physics in my first year. One of those things was a poor assignment of teacher in Year 11 physics: it was hard to dent my academic performance in high school but possible to dent my academic enthusiasms. Another of those things were that I had a lot of trouble with the intuitions of classical mechanics, especially of tension, and found myself regurgitating definitions by rote to get the right answer, and I had a lot of choices of subjects where I didn't have to do that. (I hit similar walls with chemistry in first year university and mathematics in second and third year. Probably, like with physics, a break of a decade or two would have helped a lot: I revisited classical mechanics over a few hours with Andrew's help about four years ago and now I know that in the idealised situations we were dealing with, the ropes and strings are rigid. Such simple things. I might be a scientist now if I'd had more age-peers.)
I don't even especially regret this, I think my passion for physics was more a passion for strange phenomena than a passion for making novel discoveries of strange phenomena. I'm still not especially good at telling the difference between things I want to research and things I want to read about.
I imagine this isn't an uncommon way to view one's personal history, but I feel like I straddled two major technological transitions just as I reached adulthood. The first is the ubiquity of mobile phones: when I started university in 1999, rich kids had them. When I returned for my second year, everyone had them. The second is the Web. I remember writing reports in primary school—if allowed to choose my topic, they'd either be on astronomy or on the human brain—relying on the local library. Which to be fair, was information dense enough for me at the time.
But that's not how I answer my questions now. Seeing the solar eclipse, meant lots of wiki walks and Google queries that ended in black holes, or at least quite near them. And frankly, for the first time ever, I started to feel like the Internet might be too close to being my mind, externalised, only with more answers. I don't need to exert effort, I can just mainline facts. I am generally suspicious of "information diet" kind of sentiments: I usually analyse them as in part an aesthetic or moral preference for having to do labour, which I don't think is justifiable in and of itself. Neither simplicity nor labour are in my opinion a good thing, they're just means to ends. But… obviously I partake of the culture that creates these ideas and frankly, it's a little spooky that there's entire sections of the Internet set up to teach people who are apparently just like me in terms of background knowledge (some) and willingness to do work (little) about black holes and general relativity.
I had better justify the use of the 'acceleration' topic first:
In the physics of general relativity, the equivalence principle is any of several related concepts dealing with the equivalence of gravitational and inertial mass, and to Albert Einstein's observation that the gravitational "force" as experienced locally while standing on a massive body (such as the Earth) is actually the same as the pseudo-force experienced by an observer in a non-inertial (accelerated) frame of reference.
And so I will spend my acceleration efforts on general relativity and gravity. You see why you need to be comfortable in your own intellectual laziness on the Internet these days, don't you?
It's probably fairly obvious how one gets from solar eclipses to black holes, but for the record, I believe it was via a bunch of reading about solar astronomy, with a detour through Wikipedia: Health threat from cosmic rays. You don't spend long on cosmic rays before you end up considering this baby:
The Oh-My-God particle was an ultra-high-energy cosmic ray (most likely a proton) detected on the evening of 15 October 1991… Its observation was a shock to astrophysicists, who estimated its energy to be approximately 300 exa-electron volts (3×1020 eV or 50 J)[1]—in other words, a subatomic particle with kinetic energy equal to that of a 5-ounce (142 g) baseball traveling at about 100 kilometers per hour (60 mph).

Wikipedia: Oh-My-God particle (see also xkcd what-if?)
And from there, you're pretty much considering what happens if Eta Carinae goes supernova. And secretly worrying that whatever the quantum gravity prediction is is less cool than general relativity. Which it probably will be. I own my aesthetic preferences, and they are on Einstein's side.
After that the true recognition that there are thousands and thousands of people on the Internet really established itself. Every time I thought of a question about black holes, there was some ancient FAQ (1995? dawww) that answered them.
First, ones that had puzzled me for a while. There's extreme time dilation around black holes from the point of view of a sufficiently distant observer: do they therefore see me hovering around the black hole forever? Do I see the entire universe flash before my eyes before my time is up?
I had assumed the answers were yes and yes, but they're actually no and no, at least if you stick to Schwarzschild black holes as more ore less everyone does. Matt McIrvin sorts this out pretty much back-to-back in his FAQ:
Won't it take forever for you to fall in? Won't it take forever for the black hole to even form?

Not in any useful sense. The time I experience before I hit the event horizon, and even until I hit the singularity—the "proper time" calculated by using Schwarzschild's metric on my worldline—is finite. The same goes for the collapsing star; if I somehow stood on the surface of the star as it became a black hole, I would experience the star's demise in a finite time…

Now, this led early on to an image of a black hole as a strange sort of suspended-animation object, a "frozen star" with immobilized falling debris and gedankenexperiment astronauts hanging above it in eternally slowing precipitation. This is, however, not what you'd see. The reason is that as things get closer to the event horizon, they also get dimmer. Light from them is redshifted and dimmed, and if one considers that light is actually made up of discrete photons, the time of escape of the last photon is actually finite, and not very large. So things would wink out as they got close, including the dying star, and the name "black hole" is justified.

As an example, take [an] eight-solar-mass black hole… If you start timing from the moment the you see the object half a Schwarzschild radius away from the event horizon, the light will dim exponentially from that point on with a characteristic time of about 0.2 milliseconds, and the time of the last photon is about a hundredth of a second later. The times scale proportionally to the mass of the black hole. If I jump into a black hole, I don't remain visible for long…

Will you see the universe end?

If an external observer sees me slow down asymptotically as I fall, it might seem reasonable that I'd see the universe speed up asymptotically—that I'd see the universe end in a spectacular flash as I went through the horizon. This isn't the case, though. What an external observer sees depends on what light does after I emit it. What I see, however, depends on what light does before it gets to me. And there's no way that light from future events far away can get to me. Faraway events in the arbitrarily distant future never end up on my "past light-cone," the surface made of light rays that get to me at a given time.
Fine then, answer all my questions. After reading that I huffed over to Google and typed in "does gravity move at the speed of light?" just to see whether the Internet is all it is cracked up to be. And a different section of the same damned FAQ actually answers this more or less in that form. Actually the answer is kind of cool: general relativity predicts that the distortions that gravity creates in spacetime propagate at the speed of light, yes, but in such a way that in most cases the source appears to be the instantaneous location of the massive object. Which is in turn super-lucky because otherwise you don't get remotely stable orbits. Which as I recall resulted in a breather at Wikipedia: Anthropic principle but I was willing to fight on for a bit.
I wasn't done, because I had encountered brief mentions of an interesting property of black hole event horizons, which is that inside the event horizon, one dimension of space becomes timelike, which can be informally considered as "the singularity is in your future". I kept talking excitedly to Andrew about this late at night, I think when I was supposed to be working on something else (often cooking dinner) and the more I talked, the more I realised that I had absolutely no idea what this really meant. This required actual work on my part in terms of poking at Google queries, but luckily for this project, not very much, and it wasn't long before I ended up at Jim Haldenwang's Spacetime Geometry Inside a Black Hole which breaks out mathematics, and is worth a read in full. In addition to some of the mathematics, including that property of event horizons, it talks a bit about the historical development of the understanding of black holes, including the fact that the event horizon was also a singularity in the original coordinate system and it took more than thirty years to show that in some coordinate systems, it isn't.
Frankly, I remain a little horrified at how little work I had to do to find any of this out. No overdue library books? No interacting with knowledgeable humans in real time? Some time in my 20s the future appears to have arrived with a vengeance, as it so often does. Outside of black holes, anyway.
01.1.13
Because I had quite a difficult year in several respects, especially health-wise, some short notes on my 2012 accomplishments.
Ran AdaCamp. AdaCamp is really originally my baby and AdaCamp Melbourne was significantly my work (with Val, and Skud as local organiser). AdaCamp DC was significantly less so (because I was on study leave between March and May), but still, even on the day they're a lot of work.
Delivered three talks at linux.conf.au. We gave an Ada Initiative update and an allies workshop at the Haecksen miniconf and our Women in open technology and culture worldwide talk at the conference proper.
Submitted PhD thesis. This was, of course, the end of a huge project. I enrolled in March 2006 and was full-time until December 2009. I was then enrolled part-time from July 2010 (after maternity leave) until May 2012 when I submitted the thesis. The submitted version is 201 pages long, word count is difficult with LaTeX.
Delivered the keynote address at Wikimania. This is to date my largest ever audience, I think.
Saw a total solar eclipse. Less of the work, just as much reward. The photograph of the eclipse shown here isn't mine, and isn't exactly like our view (we saw the top rather than the bottom through our bank of cloud) but it's also from Port Douglas, and is very similar.
10.14.12
What is cultural appropriation?
The problem isn't that cultures intermingle, it's the terms on which they do so and the part that plays in the power relations between cultures. The problem isn't "taking" or "borrowing", the problem is racism, imperialism, white supremacy, and colonialism. The problem is how elements of culture get taken up in disempowering, unequal ways that deny oppressed people autonomy and dignity. Cultural appropriation only occurs in the context of the domination of one society over another, otherwise known as imperialism. Cultural appropriation is an act of domination, which is distinct from 'borrowing', syncretism, hybrid cultures, the cultures of assimilated/integrated populations, and the reappropriation of dominant cultures by oppressed peoples.
An article about naval metaphors in fictional space warfare. Sometimes I suspect that I like science fiction meta way more than I like science fiction.
"I'm not like the other girls."
A quote I saw making the Tumblr rounds, which said, "I'm not like other girls!" It went on to avow wearing Converse instead of heels, preferring computer games to shopping, so on and so forth. When I saw it, about 41,000 girls had said they weren't like "the others."
Is Australia in Danger of Becoming Greece? Austerity and Blackmail Down Under
It is not enough to respond to this ongoing rhetoric about Australia's supposed calamitous future by pointing out, as Ms Gillard correctly did, that these comparisons are ridiculous given the state of European periphery countries. Yet the ideological blackmail is strangely telling, precisely because the financial sector in the form of the troika (the International Monetary Fund, the European Commission and the European Central Bank) has held Greece's politicians hostage, forcing a slashing of the government in exchange for "bail-out" loans.
The Start-to-Hate Review System
The concept is simple: Rate media based on how long it takes to encounter something bigoted. The longer it takes, the better the media.
An Investigation Into Xinjiang's Growing Swarm of Great Gerbils
I am subscribed to two "long form" websites: the picks of Long Reads, which focuses on newer pieces, and the editor's picks of Longform, which tend to skew a little older. Hence, this, from McSweeny's in January 2005. I always like a piece that clearly ended up not being about what the original pitch was about. In this case, the writer wanted (or supposedly wanted, I guess) to investigate a gerbil plague, and ended up writing an article about gerbil social structures, text messaging on Chinese phone networks, and, several times, the Black Death. Which is how I ended up reading Wikipedia articles about pandemics the same night I was getting sick with the first illness I've had since I got out of hospital.
I think of Randall Munroe as a science writer who happens to be funded by merchandise sales from a comic. I don't regularly look at the comic any more but I follow his blag and his What If? Answering your hypothetical questions with physics, every Tuesday writing more closely. This What If? is one of my favourites to date, although it's hard to beat the first one. However, this one features an excursion into unpublished work by Freeman Dyson. SO HARD TO CHOOSE.
Do bicycle helmets reduce head injuries?
It's impossible to follow Liam Hogan on Twitter without becoming interested in urban transport issues. At the moment the big conversation is helmet laws in Australia, which are arguably interfering with take-up of bike share schemes (if you're going to have to get hold of a helmet, you don't just jump on the bike, hence, scheme falls apart), although see Why is Brisbane CityCycle an unmitigated flop? for several other reasons that scheme may be failing.
Anyway, this one: A new study reports the rate of hospitalisations for cycling-related head injuries in NSW has fallen markedly and consistently since 1990. The authors say it's due to helmets and infrastructure.
The drugs don't work: a modern medical scandal and Ben Goldacre: 'It's appalling … like phone hacking or MPs' expenses'
Reboxetine is a drug I have prescribed. Other drugs had done nothing for my patient, so we wanted to try something new. I'd read the trial data before I wrote the prescription, and found only well-designed, fair tests, with overwhelmingly positive results. Reboxetine was better than a placebo, and as good as any other antidepressant in head-to-head comparisons… In October 2010, a group of researchers was finally able to bring together all the data that had ever been collected on reboxetine, both from trials that were published and from those that had never appeared in academic papers. When all this trial data was put together, it produced a shocking picture. Seven trials had been conducted comparing reboxetine against a placebo. Only one, conducted in 254 patients, had a neat, positive result, and that one was published in an academic journal, for doctors and researchers to read. But six more trials were conducted, in almost 10 times as many patients. All of them showed that reboxetine was no better than a dummy sugar pill. None of these trials was published. I had no idea they existed.
Given that I favourited two separate articles about this, I'm going to buy the book. Now you know.
Going blind? DRM will dim your world
[I]t turned out I needed Adobe Digital Editions to 'manage my content'… It tried, of course, to force me to give Adobe my email and other details for the 'Adobe ID' that it assured me I needed to get full functionality. I demurred… and was confronted by a user interface that was tiny white text on a black background. Unreadable. Options to change this? If they exist, I couldn't find them.

Getting this far had taken me half an hour fighting my way through a nest of misery and frustration with broken eyes and a sinking heart. Along the way, I'd been bombarded by marketing messages telling me to "enjoy the experience" and "enjoy your book".

Reader, I wept. Marketing departments, here's a top tip: if your customer is reduced to actual, hot, stinging tears, you may wish to fine-tune your messaging.
5 Plans to Head Off the Apophis Killer Asteroid
Friday the 13th of April 2029 could be a very unlucky day for planet Earth. At 4:36 am Greenwich Mean Time, a 25-million-ton, 820-ft.-wide asteroid called 99942 Apophis will slice across the orbit of the moon and barrel toward Earth at more than 28,000 mph. The huge pockmarked rock, two-thirds the size of Devils Tower in Wyoming, will pack the energy of 65,000 Hiroshima bombs–enough to wipe out a small country or kick up an 800-ft. tsunami.

On this day, however, Apophis is not expected to live up to its namesake, the ancient Egyptian god of darkness and destruction. Scientists are 99.7 percent certain it will pass at a distance of 18,800 to 20,800 miles… Scientists calculate that if Apophis passes at a distance of exactly 18,893 miles, it will go through a "gravitational keyhole." This small region in space–only about a half mile wide, or twice the diameter of the asteroid itself–is where Earth's gravity would perturb Apophis in just the wrong way, causing it to enter an orbit seven-sixths as long as Earth's. In other words, the planet will be squarely in the crosshairs for a potentially catastrophic asteroid impact precisely seven years later, on April 13, 2036.
It turns out that with current technology we might be able to move the asteroid prior to the (potential) 2029 entry into the gravitational keyhole, but if it did so we would be unlikely to perturb the orbit sufficiently after that point to avoid a civilisation-ended impact. So it's the question of how many resources to spend on a low-probability but enormously catastrophic event.
08.26.12
The Myth of Looming Female Dominance
[One] should always be wary of raw numbers in the news. In fact, when you look at the trend as published by the Census Bureau, you see that the proportion of married couple families in which the father meets the stay-at-home criteria has doubled: from 0.4% in 2000 to 0.8% today. The larger estimate which includes fathers working part-time comes out to 2.8% of married couple families with children under 15. The father who used the phrase "the new normal" in [the NYT story] was presumably not speaking statistically.
Miley Cyrus haircut shocker: Short hair isn't a cry for help
So just to remind you: A young woman changing her look in a way that doesn't scream, "Please, world, love me because I am a Victoria's Secret model," right now, in the year of our Lord 2012, freaks people out. It actually makes them wonder if she's lost her mind.
Tribalism and locavorism
Why does the idea of "food miles" bug (some) freemarketeers while (some) environmentalists resist evidence that it's not environmental friendly? This appears to be against both their stated ideological positions.
Why Aren't Female Ski Jumpers Allowed in the Olympics?
Dating to the 2010 Winter Olympics.
The International Olympic Committee (IOC) says the women's exclusion isn't discrimination. President Jacques Rogge has insisted that the decision "was made strictly on a technical basis, and absolutely not on gender grounds." But female would-be Olympic competitors say they don't understand what that "technical basis" is. Their abilities? They point to American Lindsey Van, who holds the world record for the single longest jump by anyone, male or female.
The foibles of flexibility
Since the average age of those studying for a PhD is 37 most of you will have some kind of family commitment, and yes – pets count. I find it mystifying that so many of the 'how to get a PhD' books offer precious little advice on how to cope.
Am I Black Enough For You?
I watched this case unfold with particular interest. Why? Because I am married to an Aboriginal man and I have an Aboriginal daughter (they are of the Ngarigo people and the Gunditjmara people). And my daughter has fair skin, dark blond/light brown hair and very blue eyes. She is one of these "white Aboriginals" that Andrew Bolt decries.
We're not here for your inspiration
And there's another one of a little boy running on those same model legs with the caption, "Your excuse is invalid". Yes, you can take a moment here to ponder the use of the word "invalid" in a disability context. Ahem.

Then there's the one with the little girl with no hands drawing a picture holding the pencil in her mouth with the caption, "Before you quit. Try."

I'd go on, but I might expunge the contents of my stomach.

Let me be clear about the intent of this inspiration porn; it's there so that non-disabled people can put their worries into perspective. So they can go, "Oh well if that kid who doesn't have any legs can smile while he's having an awesome time, I should never, EVER feel bad about my life". It's there so that non-disabled people can look at us and think "well, it could be worse… I could be that person".
06.14.12
People in my research group have been understandably excited about, eg, Andrew Ng's online machine learning course (you can also do Natural Language Processing with Dan Jurafsky and Chris Manning, respectively co-authors of Speech and Language Processing and Foundations of Statistical Natural Language Processing, so you need never choose between NLP textbook authors again).
Since submitting my PhD — I never mentioned that here, sorry, but if you follow me anywhere else you've probably heard! It's under examination presently — I've zoned out some and eventually decided to head on over to Coursera and see what was on offer, in case I went two weeks without computer science and had withdrawal I guess. There's nothing that exactly lines up with my desired enrollment dates right now, so instead, I'm in Paul Offit's Vaccines course, starting June 25. Looking forward to it! Apparently there will be "challenging" assessment quizzes: I'm hoping to write up anything particularly interesting that comes up in the course, although I suspect that for people familiar with Offit's various books and lectures (I'm not) it may be something of a repeat.
Note: never say never I guess, but anti-vax comments are unlikely to be published.
04.24.12
A quick note that appearances do suggest that I am in the final weeks of my PhD, with submission in late May. I am reluctant to say this because I've been wrong before, but this time my supervisor agrees. So.
I probably will be pretty absent for several weeks. And if I am not, I may be very tired.
Also an explanation of how this works in Australia, because it's quite different to North America. Mostly writing this so that people don't start addressing me as 'Doctor' in June.
Short version: this work is me preparing my thesis for initial examination, and this is hopefully the hardest bit. But I won't graduate for at least six months.
First, I finalise my thesis document (we don't call it a dissertation). I submit this to the university where it is examined by three external examiners: ideally at least one from an Australian university. At this point my work on it is in deep freeze.
Unlike in North America in general, these examiners are anonymous to me (chosen by my supervisor) and were not involved in my PhD studies prior to this point. This means in theory that they might not like it: in practice I am told that around 99% of students who submit at all eventually graduate.
Examination in theory takes six weeks, it could take as long as six months (since appointing a whole new examiner might be slower than waiting for a late one). They submit reports which my supervisor reads and makes recommendations on (most commonly I agree, Mary should indeed fix all these things, followed by I almost entirely agree, Mary should indeed fix all but a few of these things). This is fed into the higher degree research committee (who usually agree with the supervisor, but they might come up with a different answer if the examiners' recommendations varied a lot) and then there's a huge range of possible decisions that come out of the HDR committee:
pass as is
make minor amendations to the Library copy and pass
minor revisions to be checked by supervisor (for which I'd be allocated a month) and then pass
major revisions to be checked by supervisor (for which I'd be allocated two months) and then pass
revise and resubmit to examiners a second time
only award a Masters degree (possibly in combination with revisions): recall that in the Australian system I don't already have a Masters degree
fail
The most likely decision by far in my research group is minor or major revisions: I've never heard of anyone avoiding them. Some people in fact prefer major just because you get a bit more time to revise. (In other faculties, it isn't unheard of to pass without revision.) No one wants to be re-examined: this usually means re-enrolling and re-doing experimental work and similar.
Unless re-examination is needed, after any required revisions it is pure administrivia: the HDR committee must pass it, and then the university Senate. I submit a bound copy of my thesis to the university library and (far more importantly now) put it on my website and submit to the university's digital collection.
I think at that point I am finally a graduand and can use the title 'Dr' in academia and so on. Actual graduation would take place in either September/October or April/May, so in the pathological case it could be a while between finalising the thesis and actually graduating.
I do not do an oral defence (a three hour or so session where my examiners ask me questions in person).
10.7.11
7th October is Ada Lovelace Day, a day to blog about your heroines in science, technology, engineering and math.
Mahananda Dasgupta is a professor in the Department of Nuclear Physics at the Australian National University. Dasgupta's research takes place at the heavy-ion accelerator facility and investigates quantum tunnelling when heavy nuclei collide. Her Pawsey Medal award in 2006 cites cutting-edge contributions includ[ing] precision measurements of unprecedented accuracy.
Dasgupta moved to Australia from India for a postdoctoral position in the 1990s, and eventually was appointed to a tenured position in 2003. She became the first woman to hold a tenured position in the Research School of Physical Sciences and Engineering at the ANU in its entire 50+ years of existence! (I was very surprised to find this, the School must be enormous in terms of academic staff, it comprises nine research departments.)
How do we retain that female workforce [in science]?

By strong and meaningful mentoring, which doesn't just mean a quick meeting once a month or web-based mentoring, but real mentors who encourage women or younger people to devise strategies about how best to use their time, and what roles to apply for to advance their career.

Every person at that early stage needs support. We need to champion women scientifically – not "she's a good person", but "she's an excellent physicist who's done this great work"… Equally, the employers' responsibility to provide childcare is very important… If we are expanding and building infrastructure – why are we not building childcare facilities?

I was educated in India where, if a student is sharp, they're encouraged to show it through participating in discussions or taking on extra-educational activities… It does strike me that in Australia we give a lot of kudos to those who excel in sports, but if you excel in studies you are a dork, particularly among other students… Sometimes, following talks I give in schools, students come to the carpark to ask me science questions, rather than asking them in front of the class… How do we get away from that? I believe that to make real long-term progress we must respect and encourage intellectual achievements.

Mahananda Dasgupta, The Conversation: So seriously, why aren't there more women in science?
Dasgupta is active both in advocating careers in science in general, volunteering herself as a science careers lecturer at schools, and in speaking on behalf of women in science. In 2004 she was the Woman in Physics Lecturer for the year, and in 2011 she represented the Group of Eight universities (the eight universities that consider themselves Australia's best research universities) at a Women in Science and Engineering summit at Parliament House. Her 2011 Georgina Sweet Australian Laureate Fellowship from the Australian Research Council calls upon her to increase the profile of Women in Science through outreach activities, and work towards advancing early career researchers as well as facilitate leadership pathways for senior women researchers.
Recognition Dasgupta has received for her work includes:
the Australian Academy of Sciences' Pawsey Medal in 2006, for outstanding work in physics by a scientist under 40
her election as a Fellow of the Australian Academy of Science in 2011
an Australian Laureate Fellowship in 2011
I can't embed them in the post for licencing reasons, but David Hine has a couple of photos of Dasgupta with her experimental equipment: Dr Mahananda Dasgupta and Dr Mahananda Dasgupta and Dr David Hinde.
References
10.7.11
7th October is Ada Lovelace Day, a day to blog about your heroines in science, technology, engineering and math.
This is an expanded version of a post at Geek Feminism last year.
"Don't be intimidated!… I have seen many people get discouraged because they see mathematics as full of deep incomprehensible theories. There is no reason to feel that way. In mathematics whatever you learn is yours and you build it up—one step at a time. It's not like a real time game of winning and losing. You win if you are benefited from the power, rigor and beauty of mathematics. It is a big win if you discover a new principle or solve a tough problem.

Fan Chung
Fan Chung is a leading mathematician, specialising in combinatorics and later graph theory. She is Distinguished Professor of Mathematics and Computer Science at UC San Diego.
I first heard of Chung in Paul Hoffman's The Man Who Loved Only Numbers: The Story of Paul Erdős and the Search for Mathematical Truth; Chung and her husband Ron Graham were two of Erdős's closest collaborators. Hoffman tells a great story about how when Chung had finished, and come first in, her PhD qualifying exams at the University of Pennsylvania, her eventual PhD advisor Herbert Wilf gave her a textbook on Ramsey theory to browse and she came back and explained that she'd improved one of the proofs. That was a core part of her PhD dissertation, completed in a week. Those kinds of stories are told about the best mathematicians.
Chung has worked both in academia and in industry, having spent twenty years at Bell Labs and Bellcore in both information technology and mathematics before returning to the University of Pennsylvania, where she did her doctorate. After her time in industry she is deeply concerned with mathematical breadth, and is known for her "nose" for problems that cross several subfields.
Many mathematicians would hate to marry someone in the profession. They fear their relationship would be too competitive. In our case, not only are we both mathematicians, we both do work in the same areas. So we can understand and appreciate what the other is working on, and we can work on things together-and sometimes make good progress.

Fan Chung, describing her relationship with husband Ron Graham
If my count is right, Chung's publication list shows 79 papers co-authored with Ron Graham. I've always admired stories of professionally companionate marrages: even Joan Didion and John Gregory Dunne can't compete on those numbers.
Chung's website has a copy of a chapter about her in Claudia Henrion's Women in mathematics: the addition of difference. Among other things it talks about her move to the United States from Taiwan for her graduate work, and her thoughts on having a child while at graduate school.
[Graduate school] is a wonderful time to have a child. You don't have to attend classes; you only have to write your thesis.

Fan Chung
Hrm, yes, well. Perhaps I will give that advice in 20 years time. Perhaps not…
References
09.25.11
As just fed to my son, in fact.
The execution of Troy Davis and the death penalty
I donated to the Innocence Project and the (US) National Coalition to Abolish the Death Penalty, for what it's worth.
Fukushima Disaster: It's Not Over Yet
The impact of both radiation and fear of radiation on Japanese society, although it feels a little shallow. I'd love to read this argument from the perspective of a Japanese person.
Struggles to come up with anything nice to say about cul-de-sacs, frankly, unless you are in the business of selling either cars or fuel for them. Oh, they're quieter. Other than that, cul-de-sacs suck.
A Christmas-time fairy story by Karen Healey. So you know it's got a tough-minded teen girl, New Zealand, and magic. Several of my favourite things.
Chemotherapy doesn't work? Not so fast…
Science Based Medicine reviews the real position of chemotherapy. It works as the primary treatment for a fairly small number of cancers, it doesn't work much at all for some cancers, and much of the time it is part of several treatments (radiotherapy, surgery).
Sady Doyle reflects on the extent to which being a feminist makes you a better person: potentially not much.
The Great American Bubble Machine
Goldman Sachs: always there to turn a functioning market into a speculative bubble, and thence to profit. Highlights include 100 million people entering hunger in 2007 due to speculation on food and oil futures. This was via Tim O'Reilly, who went down to the Occupy Wall Street protests because even rich small-government types do (or ought to) have a beef against Wall Street.
Disability Culture meets Euthanasia Culture: Lessons from my cat
On the normalisation of euthanasia in animals, to the point where vets can't advise on what death of natural causes is like, and its relationship to euthanisa in humans. I was thinking about this issue over the last few years, most recently after a vet euthenised my parents' elderly pet horse after what my father, who works in the meat industry and has seen hundreds if not thousands of animals die—and some seriously negligent treatment of animals for that matter—described as the worst suffering he'd ever seen. So, I don't have a lot to say about Tony's death, but it did make me think about how animals die.
Certificates and "authorities"
The certificates that identify websites for secure web browsing, that is. Basically, it's a mess. There are about 400 organisations that are trusted by browsers to sign the identities of secure websites, they get hacked quite a bit, and some of them are careless at best about security.
Movin' Meat: Instinct vs Expertise
An ER doctor puzzles over why a neurosurgeon isn't taking a certain fracture seriously. Unlike a lot of stuff I link here, this is less about systemic concerns and more just an interesting story.
The iPad, the Kindle, and the future of books
From early last year, more in my attempt to understand publisher perspectives on ebooks. I'm in an interesting place on this, reading both in the open source/copyright reform world which tends to accept and embrace the tendency of the sale value of intellectual property to fall to zero or nearly so once distribution is cheap (see for example Copyfight on ebook prices rising), and librarians, publishers and authors who aren't so hot on that happening to books.
Anyway, now I know what the agency model is.
Do We Need A New Nirvana? Does Modern Music Suck?
Joel Connolly (my brother-in-law, and a band manager) thinks audiences need to wise up to existing awesome music, basically. It's a longer version of what he said to Bernard Zuel early in the month.
Above reproach: why do we never question fidelity?
I like this style of inquiry. Basically, the question is that everyone agrees that infidelity (not having multiple partners, but having multiple partners without being honest about it) is unethical. But should we? Is this sometimes part of oppression?
Every so often, asking these questions of human relationships is important. (Note that the writer, also, doesn't have an answer.)
Increasing Barriers to College Attendance Through 'Optional' Extracurriculars
Something I've wondered about for ages, as Australian universities, which largely admit students based on pure academic performance, are constantly criticised for not moving to the US model, which takes into account the whole person, yadda yadda. As long as the whole person has time in their life for charity work, sports teams, student politics etc. To me, US college applications often sound like high schoolers applying for a Rhodes scholarship straight out of school. Not that raw exam scores don't incorporate endless privilege, but extracurriculars do not in any way ameliorate that.